Scientifically Credible IQ Training
Your IQ level is not fixed
The  consistency of an individual's IQ scores over time has been interpreted as showing that IQ is stable over time. But evidence shows that intelligence can change over time as a function of a person's learning and life experiences (for reviews, see Flynn, 2000; Nisbett, 2009). This evidence is supported by research on neuroplasticity showing that the brain is highly plastic and changeable in its circuitry.
Brain training – rapid neuroplasticity change
In 2008, for the first time in over 40 years of research, a team of psychologists at the University of Bern in Switzerland and the University of Michigan in the USA, led by Dr. Susanne Jaeggi, demonstrated to the scientific community that a simple brain training exercise, practiced for 20-25 minutes each day for 20 days, could substantially improve both working memory and intelligence.
"Increasing intelligence is possible after all …with more training leading to greater gains …across the spectrum of abilities."
Robert Sternberg, Professor of Psychology
It is only due to recent insights from cognitive psychology about the functioning of working memory – a short term memory system for processing information – that cognitive scientists have been able to succeed in developing an effective brain training exercise for increasing IQ and memory.
What is working memory?
Working memory can be considered as the main control centre or 'hub' of widespread brain functions, as illustrated in this BrainScanr graph: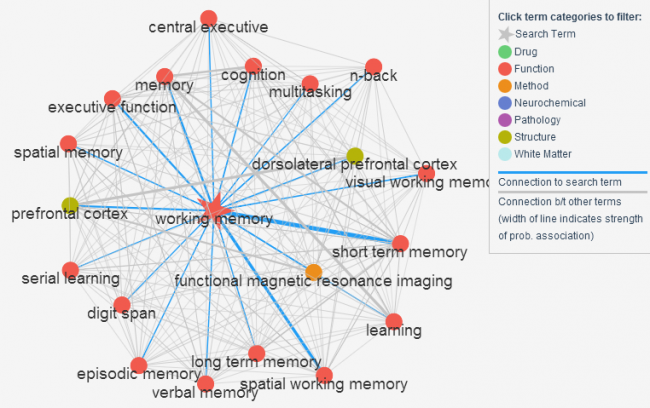 Working memory capacity definition
Working memory capacity reflects the ability to maintain a few task-relevant items of information (such as concepts, rules or images) in the face of distracting irrelevant information. Since working memory makes information available for more advanced cognitive processing, working memory capacity – the number of distinct 'chunks' of information you can hold in mind at the same time – is one of the main rate limiting factors for higher-order cognitive functions.
In general terms, the larger your working memory capacity or 'mental workspace', the greater your capacity for higher order cognition and thus academic and professional achievement.
An example of this relationship is shown in the scatter plot graph. Here academic achievement is predicted by working memory capacity.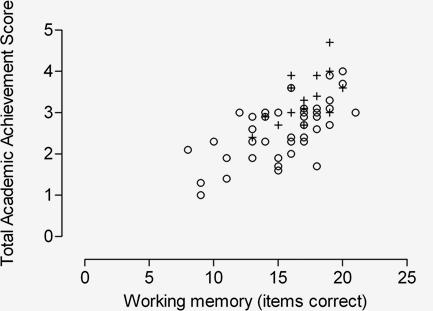 Individuals differ in the size of their working memory capacity, and because of this, they differ in their capacity to reason, make decisions, plan and comprehend.  There is also a normal decline in working memory capacity with aging, starting around 25-30 years of age, with a decline of about 5-10% per decade.
Why HighIQPro Works
By expanding working memory capacity and your 'mental workspace', HighIQPro improves your fluid intelligence – your ability to reason and problem solve which is the core of our intelligence. All official IQ tests measure fluid intelligence either in part or exclusively.
The working memory-IQ link
People vary widely in their working memory capacity, and that these differences in fact predict general intelligence level as measured by standardized IQ tests. General intelligence depends on working memory because working memory affects a wide range of complex cognitive tasks besides figuring out a tip, involving reasoning problem solving, and making sense of things. We use working memory when we reason, plan and problem solve.
Working memory and general intelligence both share the same brain circuitry – part of the frontal cortex of the brain called the dorsolateral prefrontal cortex. ('Dorsal' means up, and 'lateral' means to the side – hence 'dorsolateral').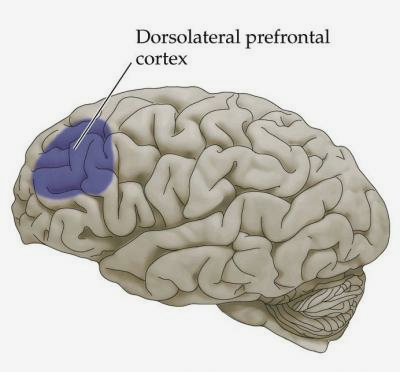 How to obtain an IQ increase? The logic
The logic is simple:
If you can improve your working memory capacity by training it directly, you can increase your intelligence level indirectly.
There is a 'transfer effect' from working memory training to intelligence and IQ.
This graph shows typical increases in working memory capacity (how many items of information you can hold in mind) as a result training with HighIQPro.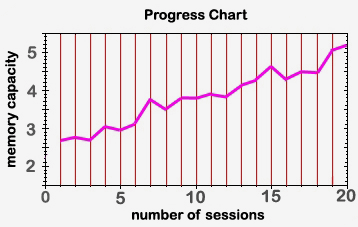 How much does IQ improve from training?
In the Jaeggi study, the measure of IQ – a time-limited version of Raven's Advanced Progressive Matrices – increased by over 40% in just 19 days. There was a training effect on IQ level for people of all starting intelligence levels. This graph shows the IQ gains over number of daily sessions.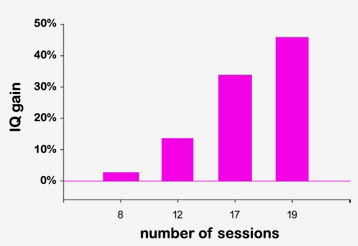 This is an enormous effect, and has excited the entire scientific community.
"Almost 40 years ago, Jensen claimed that, when all is said and done, there is not much one can do to raise people's IQs. [but we now know that] intelligence is trainable to a significant and meaningful degree."
Robert Sternberg, Professor of Psychology
Professor Sternberg's published article on the HighIQPro training exercise can be found by clicking here.
Scientific References
Jaeggi, S.M., Buschkuehl, M., Jonides, J., & Perrig, W.J. (2008). Improving Fluid Intelligence with Training on Working Memory, Proc Natl Acad Sci USA, 105: 6829–6833.
Sternberg, R. J. (2008). Increasing fluid intelligence is possible after all. Proc Natl Acad Sci USA, 105, 19: 6791–6792.
The Scientific Press
Increasing intelligence is possible after all …with more training leading to greater gains …across the spectrum of abilities. …Almost 40 years ago, Jensen claimed that, when all is said and done, there is not much one can do to raise people's IQs. [but]  intelligence is trainable to a significant and meaningful degree.
I know, there is a huge market of software concerning brain training, IQ-training, and so on. But there is no real scientific evidence that these programs actually work, that is, that they actually boost intelligence or train something else than the task itself, at least in young adults. The … fact that we reliably showed transfer effects after training, and moreover, that we showed transfer to such an important function as fluid intelligence is a very new and exciting finding in our field.
It it is possible that these exercises aid with nerve cell growth or nerve cell function in some way or alter neurological function in some way… The results are exciting and have implications for a wide variety of fields including alzheimer's and other dementias.
Dr. Raj Persaud, Consultant Psychiatrist & Gresham Professor for Public Understanding of Psychiatry

Simple brain exercise can boost IQ
Can mental training improve your intelligence? No video game or mental puzzle has convincingly been shown to work. But now a group of neuropsychologists claims it has found a task that can add points to a person's IQ – and the harder you train…the more you gain.

Smarten up. Practicing a challenging memory task spurs a surprising intelligence gain
If you're looking for an intellectual picker-upper that doesn't come in a pill, remember this: A relatively brief memory-training program jump-starts general reasoning skills and problem-solving proficiency.

Training can increase fluid intelligence, once thought to be fixed at birth .
Can human beings rev up their intelligence quotients, or are they stuck with IQs set by their genes at birth? Until recently, nature seemed to be the clear winner over nurture. …But new research, led by Swiss postdoctoral fellows Susanne M. Jaeggi and Martin Buschkuehl, working at the University of Michigan in Ann Arbor, suggests that at least one aspect of a person's IQ can be improved by training a certain type of memory.

Plastic brain outsmarts experts.
Crystallized intelligence draws on existing skills, knowledge and experiences to solve problems … Fluid intelligence draws on the ability to understand relationships between various concepts, independent of any previous knowledge or skills, to solve new problems. The research shows that this part of intelligence can be improved through memory training. …General intelligence is a key to determining life outcomes such as academic success, job performance and occupational advancement …